Be welcome again. I know you had been waiting for your chance. And now at last you have settled in after lost calls that were found after the earthquake and among hurricane clouds.
Truth is I missed you. Not like when one yearns for the lover that is gone, but like the memory of that which I become when you are here. Powerful senseless habit. Dear sadness, however, I would rather that you not be, that you not show the confidence that you show. I would opt for you to listen to my guts as they rustle, and to how your presence detriments me. Maybe then you could start collecting some taste of compassion.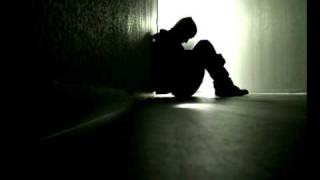 I would love to be able to have you mixed up with fury, anger without a reason and without mercy. But reality is that we needed to finally get together, it was now time that you invaded me with your anxiety attacks after one or two hours of poor sleep. It was now time that you became this nuisance, with your bland necessity that ages and then is reborn lush every time I open my eyes in panic, realizing that I have forgotten to breathe. My heart is closer to its last beat thanks to you, so powerful and, at the same time, so wilted.
Dear sadness, I shall be at your mercy for a time now. A glorious time of obscurity within failure. Infamous lapse without foundation during which I shall try to give an explanation to my falls and to the shattering of the world I used to live in. Interval at which I shall outline a glimpse of understanding toward the very life that is escaping me. Thanks to you I know I am human, I understand that I am alive, right here and now, without need of further evidence other than my words, my silence, and the torrent of my blood that gets slumped each time you accumulate until you become anxiety.
Dear sadness, my old friend, be welcome. Understand that I am accepting you because you are beautiful in essence. You remind me that losses are such because once there were dreams. Stubborn, you invoke in my mind moments of emotional wreck because, at some time in the past, my heart and somebody else's had conjugated rhythms to form harmonies as beautiful and spontaneous as whole universes. You let me comprehend that you are temporary and situational. Circumstantial. And, in your visit, as long and uncomfortable as it may be, I'll allow myself to bless you, since I know that, when I finally shake you off from my now broken and muted unfolding, at last, peace will come.